Experience Nicholson Muir
DISCOVER SOMETHING MORE
Become a member to experience the magic within Nicholson Muir and share in our love of gastronomy and hospitality.

Our memberships offer a unique compilation of exclusive Nicholson Muir experiences including private events with the Nicholson Muir team, cooking demonstrations, wine tastings and dining benefits.

There will be a limited amount memberships available.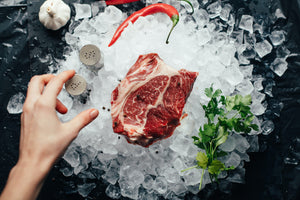 "Our Mission: The Aggressive Pursuit of the Perfect Butcher Experience for our members."
Nicholson Muir is a nod to the historic neighborhood butcher shop elevated to todays highest standards.
James has truly reframed how we shop for meat by providing individualized recommendations and approachable cooking advice for every cut.
Nicholson Muir hits every mark; this place is a treasure.
John G. Backer
Nicholson Muir is both stepping back in time and into the future. I love knowing every piece of meat is of the purest quality and that each cut comes with instructions on how to perfectly prepare it.
The shop itself is such a special place to meet friends or learn about specialty cuts; It truly is my happy place.
If you are looking for fine food, to learn something new, to feel part of a community of fun loving life-learners, NM is for you!
Jacqueline Owen